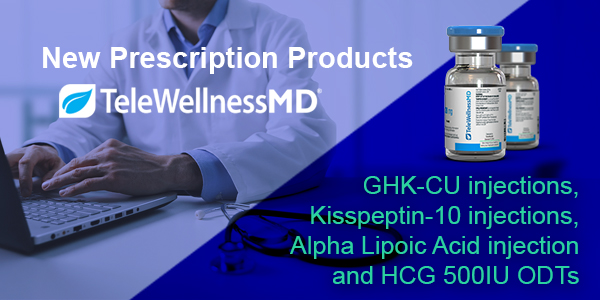 TeleWellnessMD is excited to announce the launch of 4 new prescription therapies now available. Prescription therapies must be prescribed by our providers during your Wellness Consultation. Consultations are required at least once per year to renew prescriptions. If you have an active consultation, simply fill out the Rx request form or contact us to have any of the new therapies added to your Rx list (all requests must be reviewed by our medical team prior to adding).
Newly added to TeleWellnessMD® are:
Alpha Lipoic Acid Injections

GHK-Cu Injections

Kisspeptin-10 Injections

HCG 500IU ODTs
Read more below!
Alpha Lipoic Acid Injections - $149.95
Alpha Lipoic Acid (ALA) is a universal antioxidant that contributes to the production of other important antioxidants. ALA is essential for cell metabolism and cellular energy production. ALA can help to support the immune system, liver, weight loss, and more. Read More →
GHK-Cu Injections - $299.95
GHK-Copper is a tri peptide that has presented itself as a natural skin renewing, repairing, and rejuvenating ingredient. GHK-Copper can help increase collagen production, repair skin barrier proteins, promote wound healing, and more.
Kisspeptin-10 Injections - $149.95
Kisspeptin is a group of peptides that stimulate the release of Gonadotropin Releasing Hormone (GnRH) and is similar to HCG in that it increases Luteinizing Hormone (LH) and Follicular Stimulating Hormone (FSH) which helps to improve hormone production, including testosterone. Read More →
HCG 500IU ODT - $129.95
HCG in tablet form! A 40 day supply of 500IU orally disintegrating tablets. The use of HCG has been a safe and effective alternative for treating those millions of individuals afflicted by obesity for many years. Read More →