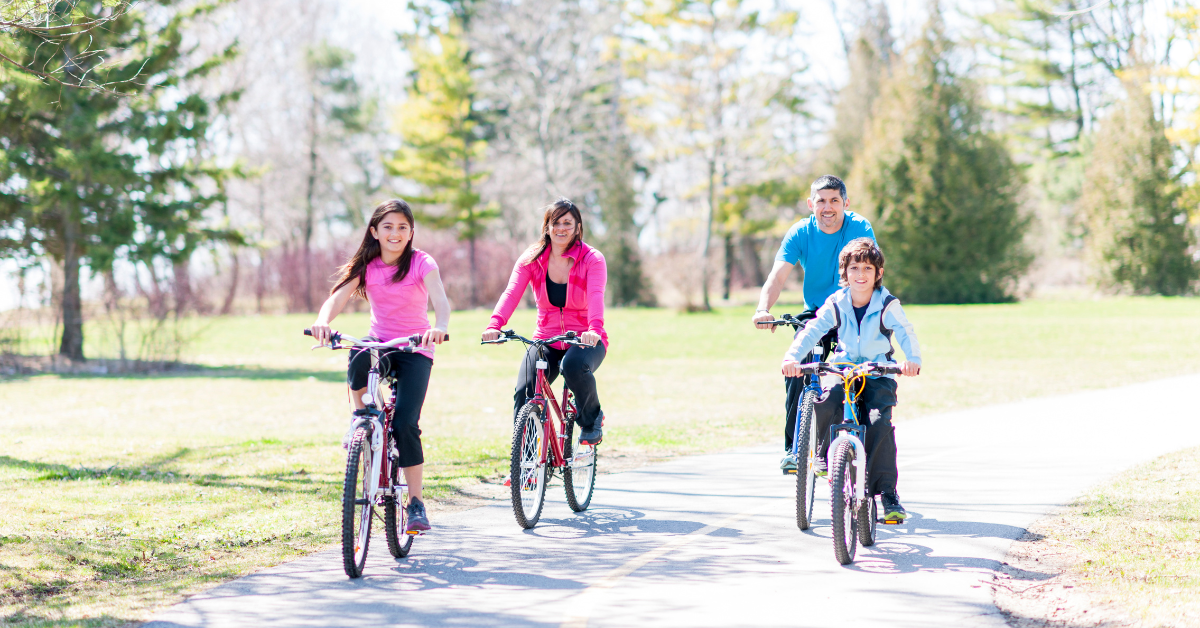 Fitness and movement are important for every family. By sharing fun fitness activities as a group, everyone can be healthier. To remind families to move, the last Saturday of September has been designated as Family Health & Fitness Day. This important day can help families update the household dynamic to incorporate healthier choices into daily life.
According to the American Heart Association, healthy children ages six and older need at least one hour of moderate to vigorous activity every single day. This helps them keep their entire bodies healthy. An hour a day might seem like a lot. However, that hour can be spent in many different ways.
We have come up with six fun fitness ideas that everyone can do together. Take a look.
Ideas for Family Health and Fitness Day
1. Get a Map
Yes, a local map can be your family's most important fitness tool. While we all love the idea of getting outside, we're often unaware of great local nature spots that can make it easy to enjoy the outdoors. Download a map app on your smartphone or use a paper map and mark nearby nature trails, bicycle paths, and walking paths. This ensures you always have inspiration for where to go when the mood for a walk strikes. Also, don't forget to include playgrounds, parks, and other fun spots for kids on the map.
2. Start a Family Garden
A family garden creates the need to be active because gardens need constant prepping, weeding, water, and harvesting. Even younger children can help out with a garden.
What if you don't live in a place that supports a garden? That's okay —most towns and cities today have communal gardens that allow you to rent spots for just a few dollars per season. In addition to encouraging your family to get outside to be active, gardening also teaches kids how to grow healthy, nourishing food.
3. Don't Turn on Screens Right After Dinner
Screens can be big inactivity traps for families. If you immediately reach for your phone after dinner, so will your kids. However, it's important to avoid the temptation to turn on screens right after dinner. This makes it harder to get momentum to do something active before settling in for the evening. Therefore, designate after dinner as a "no-screen time" and instead choose to do something active as a family together. Go for a walk, play a game, or choose another fun outdoor activity.
4. Learn a Dance Routine Together
Make a weekly event of learning a new dance routine as a family. The time needed to learn the steps will ensure that you're all getting a robust workout. In addition, the commitment to learning a new routine is a fun bonding experience that will boost confidence, motor skills, and fitness levels!
5. Take a Walk Around the Mall
Mall walking is a fun way to get fit for everyone in the family. Outdoor malls are fantastic walking spots in nicer weather and indoor malls are perfect for when the weather isn't so perfect. Most malls have play areas as well, which provides even more fun for younger kids.
6. Be a Good Fitness Role Model
It can be challenging to motivate your kids to lead a healthier lifestyle. If you're a parent who is trying to empower your kids to embrace healthy choices, it's important to lead by example.
Prioritizing your health is the best way to do this. Make a commitment yourself to embrace a healthier lifestyle. This includes eating a balanced diet, making sure you're getting the right levels of vitamins and minerals, and being physically active.
What if you find it hard to find the energy to stay active? If you're dealing with energy slumps that are making it hard to find the "oomph" you need to make fitness happen, consider vitamin B-complex injections for natural energy.
Let's Recap
Family fitness can create fun bonding experiences! In addition, leading by example with healthy living is a gift that parents give to their kids for life. Use Family Health and Fitness Day as a launching point for healthy changes all year long.
Questions?
Chat or call (877) 659-6050. Our Wellness Advisors are ready to assist you.
About TeleWellnessMD® CLICK HERE to browse our products.
TelewellnessMD® provides consulting and program recommendations for general health, age management, nutrition and other wellness healthcare needs through an online platform and network of wellness medical providers.