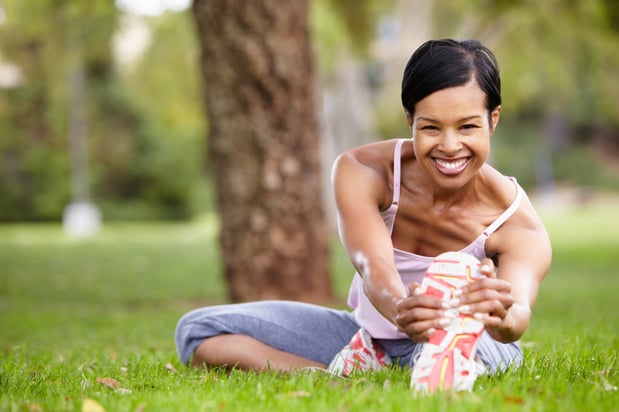 Healthy weight, regular exercise and less alcohol could cut incidence by one-third, cancer expert says
TUESDAY, Oct. 4, 2016 (HealthDay News) -- Although breast cancer is the second most common type of cancer among American women, there are three steps women can take to reduce their risk, a nutritionist says.
The American Institute for Cancer Research (AICR) estimates that about one-third of breast cancer cases could be prevented with weight control, exercise and cutting back on alcohol.
"While there are no guarantees when it comes to developing cancer, what we do know is that women can take steps every day to reduce the odds of developing breast cancer, along with many other cancers and chronic disease," said Alice Bender, head of nutrition programs at AICR.
The first is to achieve and maintain a healthy weight. About 20 percent of breast cancer cases are due to excess body fat. And along with breast cancer, overweight and obesity increases the risk of 10 other cancers, Bender said in an institute news release.
The second step is to get at least 30 minutes of moderate physical activity each day. Doing so helps manage weight and boost the immune system.
And the third step is either avoid alcohol or drink in moderation. Even small amounts of alcohol on a regular basis increase the risk of breast cancer, according to Bender. Women who drink should limit their alcohol consumption to one glass a day.
Researchers also have found that breast-feeding reduces the risk of breast cancer, she said.
"When it comes to breast cancer, you can take control to lower risk through lifestyle changes that offer powerful protection," Bender said.
October is National Breast Cancer Awareness Month.

More posts for you:
5 Hormones and how they affect your weight
Eating certain fruits and veggies may help a bit with weight control
Exercise may cut risk of 13 cancers study suggests
Questions?

Chat or call (877) 659-6050. Our Wellness Advisors are ready to assist you.
About TeleWellnessMD® and Trim® Nutrition CLICK HERE to browse our products.
TelewellnessMD® provides consulting and program recommendations for general health, age management, nutrition and other wellness healthcare needs through an online platform and network of wellness medical providers. Trim® Nutrition's product line includes vitamins, supplements and protein shakes manufactured in CGMP facilities and proprietary nutrient injections compounded in a certified licensed pharmacy using the highest quality ingredients. Headquartered in Clearwater, Florida, Trim® Nutrition's clinical staff of physicians, pharmacists, registered nurses, and research and development specialists are dedicated to the mission of Making Bodies Better™.
More information
The U.S. National Cancer Institute has more on breast cancer prevention.-- Robert Preidt
SOURCE: American Institute for Cancer Research, news release, Sept. 30, 2016
Last Updated: Oct. 4, 2016
Copyright © 2016 HealthDay. All rights reserved.